First Presbyterian Church of Edmond is a place where people can meet Jesus, engage in life-giving community, and everyone is welcome. We believe in creating a space where people can have authentic encounters with Christ, discover their gifts and use them for God's glory.

Join us for our Sunday services at 9am or 11:15am
1001 S. Rankin Street, Edmond, Oklahoma


NEW LIFE, THROUGH JESUS, FOR EDMOND AND THE WORLD How do we share our faith and the good news about Jesus in a hostile and skeptical world? What are some techniques we can use to gently correct wrong ideas and lead people back to Biblical Christianity? Speaker Alisa Childers will share her story of deconstruction of her Christian faith and how the God of the Bible pulled her out of darkness into His glorious light.
2021 Stewardship Campaign
We are entering our Annual Stewardship Campaign and our theme is "Blessed to be a Blessing." The theme is taken from the Lord's covenant promise to Abraham when He placed a staggering, purpose-filled call on his life and promised His faithfulness to him in living it out: "And I will make of you a great nation, and I will bless you and make your name great, so that you will be a blessing." (Genesis 12:2). God blessed Abraham and his family not for his own sake, but God blessed him so that all the families of the earth might be blessed through him.

This is an exciting time. Every one of us is blessed beyond what we deserve. Through prayerful stewardship of these blessings, we are able to return them in a way to praise and glorify God. Please remember our theme "Blessed to be a Blessing" as you personally consider your stewardship.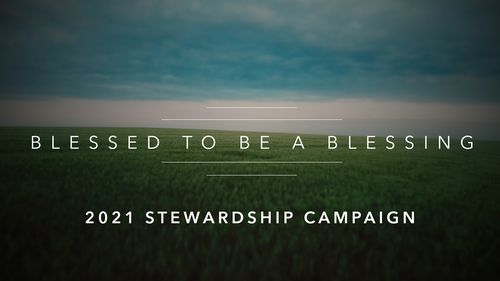 One of the best ways for us to stay connected during these times is through our app. Receive live updates, watch our livestream, and so much more by downloading our app on your device today!
PLEASE JOIN US AT THESE EVENTS
We'd love to hear from you. Fill out the form below to get started.