"Lord may they know that You are trustworthy in all You promise and faithful in all You do."
We believe together we will grow kids as Christ-followers by connecting them to God through worship. Leading them to develop a personal relationship with God through prayer and teaching. This leads them to become disciples of Christ and, in turn, they form strong connections and lifelong relationships with one another and their leaders.

We provide exciting and engaging large group experiences filled with praise & worship, games, and interactive Bible teaching to aid in your child's spiritual growth. During small group time, your child will have the opportunity to form relationships with other children, as well as with loving adults who are committed to their spiritual development.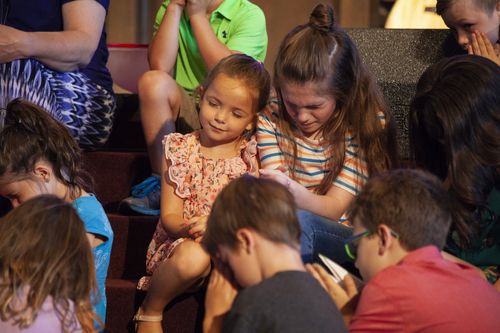 We want to partner with parents to teach children about Jesus and foster their faith in Him.
We are all about bringing kids to the feet of Jesus!
As we join together with parents, our goal is to form a firm foundation of faith in Jesus Christ.
Our ministry is centered and focused on the whole child.
Our teaching is experience-based. This process allows the child to be actively involved in learning,
through a variety of activities which encourage thoughtful discovery.
We believe the Bible is the true word of God and useful for teaching
and life application, even in the lives of young children.
Our staff and leaders are people who have placed their trust in Jesus Christ
and they desire to share his love of Jesus with your children.
SUNDAY MORNINGS (10:00-11:00AM)
Children in kindergarten through fourth grade attend Sunday School at 10:00 am.
Nursery care begins at 8:30am. Birth - 2yr.
3 yr. – Pre-K: Room L-1112
Kindergarten & 1st Grade: L-1133 (just inside kid's area from the check-in station)
2nd Grade: 2nd Grade Room (Lower level in gym)
3rd Grade: 3rd Grade Room (Lower level in gym)
4th Grade: 4th Grade Room (Lower level in gym)
Wednesday nights @ FPCE are alive and fun! Each Wednesday in the months of September through November from 6:30-8 pm. and January through April. They are a relaxed environment for your kiddos. We use the Small Group model to allow kids to engage through active learning and discussion. We offer a place for them to build relationships with each another, caring adult leaders and Jesus.

Nursery care is also available on Wednesday evenings from 6:15–8:00pm when small groups/classes for all ages are being held at the church.

Many 11-13 year-olds/preteens are leaving childhood behind, but aren't quite teenagers.
So where do they fit? Studio 56!
This ministry is designed uniquely for your pre-teenager. We understand that they are maturing and ready to own their faith, but still want to have fun while doing it. We want to encourage preteens to grow and develop, learn, question, and to discover the person God has made them to be.
SUNDAY MORNINGS (10:00-11:00 AM)
After check-in, students gather in room 1224, across from the Library. We start the morning hanging with friends while listening to some great contemporary Christian music. Class continues in small groups. This gives our students an opportunity to grow relationships between one another and adult leaders.
WEDNESDAY NIGHTS (6:30-8:00PM)
Wednesday night happens August through November and starts up again after the holidays from January through April. After check-in, students gather in room 1224. After a long day at school, we know students need a break, so we offer a more laid-back evening to connect with friends. We meet in small groups discussing issues that are relevant to them while teaching to learn how to have a personal relationship with their Lord and savior, Jesus. After all, with Christ at the center, everything else falls into place! We then head into high-energy games in the gym and send them home with you!
A Shepherd simply guides the students to their particular activity for the morning and assists the Teacher in making sure the kids stay focused while learning God's word. The Shepherd also builds meaningful bonds and relationships with the kids, which is an important part of a child's connection to their church.
VBS has numerous roles for volunteer support. VBS during the month of July for one week and is a truly a fulfilling way to serve our children and the surrounding community.
Our Wednesday evening activities have Teacher, Shepherd and Leader volunteer opportunities in Kindergarten through 6th grade. If you aren't an "Out Front" kind of person, there are lots of behind the scenes ways to help too!
Projects that serve our local and world community happen throughout the year. With opportunities like the Food Bank, Back to School Project, PJ Partners, and many more ways to join in outreach.